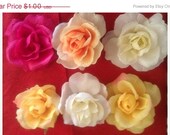 Customer appreciation sale flower clips, red rose, pink rose, white rose barrette.
These are for my customer appreciation sale.
Red rose clip
yellow rose clip
pink rose clip
white rose clip
The only catch you get what I send you:)
I only have a limited number of colors.
Click Here to Visit My Etsy Shop!